The emergence of new protocols such as MQTT for IoT applications has paved the way for new business opportunities, especially for projects where installing new devices, already equipped with these protocols, is both feasible and economically viable. However, we need a way to integrate pre-existing devices in order to enjoy the integration and connectivity benefits proposed by Industry 4.0, in addition to meeting other business needs from this context.
For applications that already have their solution for data management and analysis, we offer the Edge Gateway solution, which can perform the following tasks:
1 – Collecting data via the more than 400 Elipse protocols available;
2 – Translating protocols;
3 – Monitoring gateway resources and remote management;
4 – Local processing application (Analytics) working as Edge Computing.

Edge Gateway comprises a special version of Elipse E3 Gateway alongside an agent capable of sending statistics about the machine (CPU, disk, and memory) and receiving commands such as file transfer, machine reset, or application update.
Edge Gateway can translate the devices' local protocol into other protocols, so that data can be received by an external system. Some options in this case, among others, are DNP 3.0, IEC 104, IEC 61850, MQTT, XMPP, and OPC UA protocols.
An application developed with Elipse E3 allows the remote monitoring of gateways, generating alarms and events in case any issue is detected, as well as remote requesting of functions. Some of the available functions are:
– Installing a new Edge Gateway version;
– Transferring files, including the application itself;
– Requiring machine restart.
Analytic Functions
When the first IoT and cloud data processing were created, most providers would prefer to collect raw data from the device and send them immediately to a remote system, with more computing resources available, in order to extract relevant information. However, the consensus nowadays is that, in many cases, this approach presents severe limitations and side effects.
Depending on the structure of the network, and the traffic costs related to it, requiring all intelligence operations to occur in the data center is not viable, considering not only the number of packs being transmitted but also the effects resulting from network shutdown and lack of a local decision-making authority. There are more opportunities for local improvement the more autonomous the edges of the process are; that is to say, the closer to the source the data is processed, the better.
For some applications, more functions are demanded by the device. Consider power grids control and monitoring apps, where more distributed generation sources are connected (such as solar and wind power), which requires complex local and distributed intelligence networks between devices, and consequently raises more security concerns.
Elipse Edge Gateway offers the option of using a special version of EPM to perform analysis functions and make decisions locally.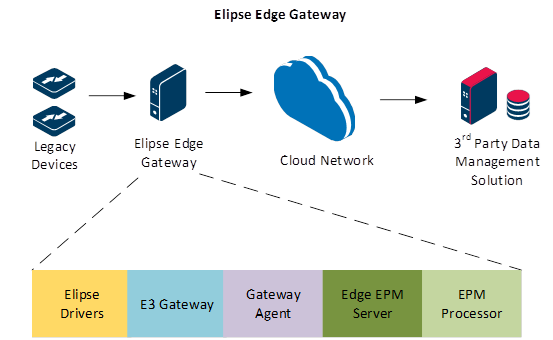 By using the EPM Processor and its local integration to EPM and Python language, the application can employ several algorithms for local analysis, so that Edge Gateway has a controlled degree of autonomy and performs local actions regardless of the communication status with the central application.