Installing Elipse Mobile Server
12/03/2014
Elipse Mobile Server is an HTTP server and has no dependency with another HTTP server, making its installation very simple.
Minimum requirements for running the Elipse Mobile Server
Microsoft Windows XP SP3 or higher
Intel Core i5/AMD 4 or higher
4GB of available disk space
4GB RAM
The first step is to run the installer: mobileserver-x86-enu.exe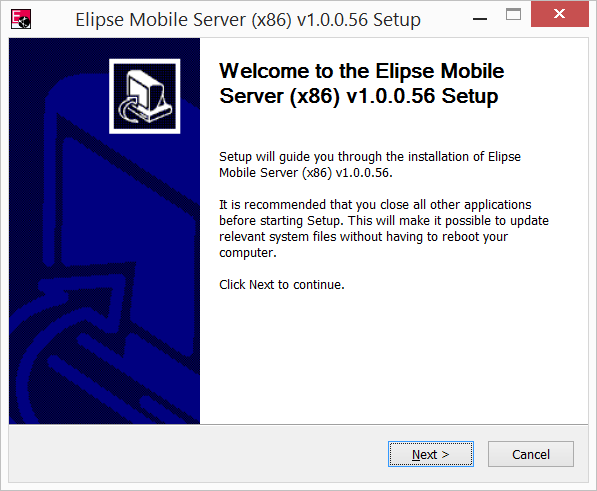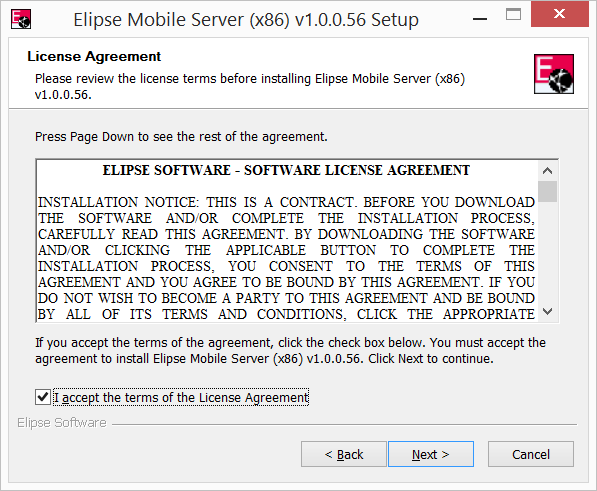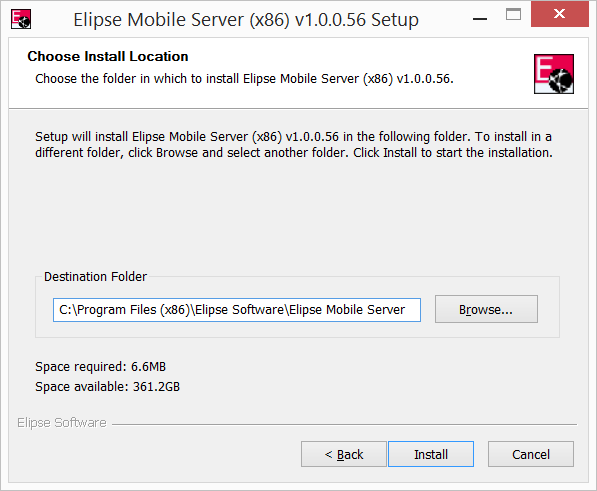 Description of the main folders created after installation
Projects
Folder that contains two sample applications called Demo and Empty.
ProjectsDemo
Demo.txt – Configuration file of the demo application.
.medias – Contains pictures of the demo application.
ProjectsEmpty
Empty.txt – Archive application settings empty.
.medias – Contains pictures of empty application.
WebClient
File used in the web configurator application and HTML5.
init.txt
File that contains the configuration of the Server.
Running the Elipse Mobile Server as an application
All you need to do is to run the application MobileServer.exe as administrator.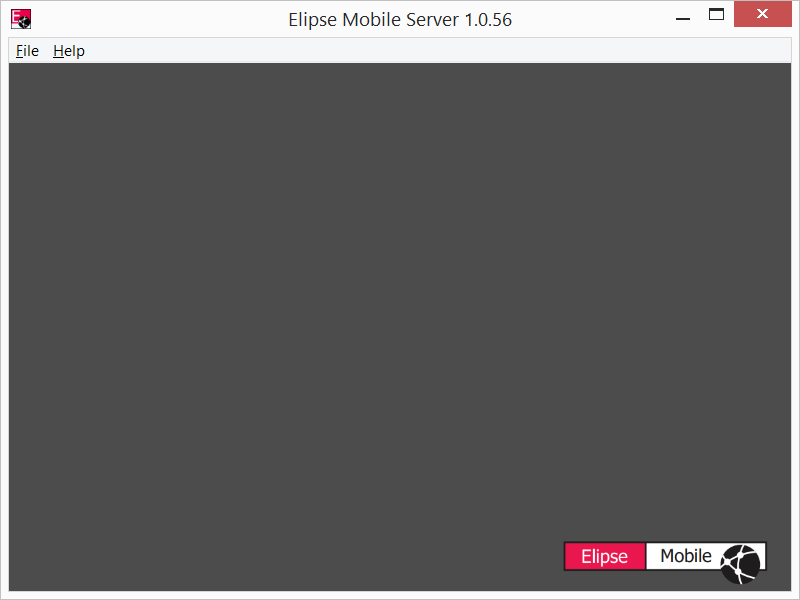 To check that everything is working you can open a web browser and type:
http://localhost:8080/

The following screen should appear.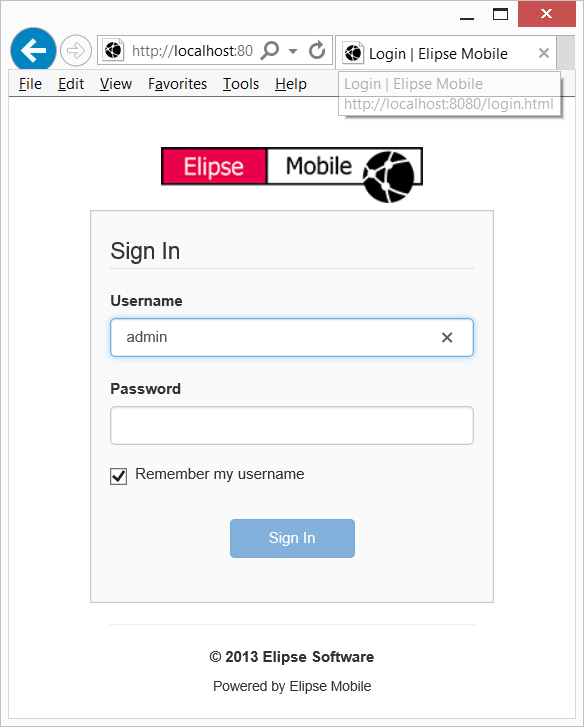 The port 8080 and the Demo application have been set at init.txt during the installation.
The Init.txt configuration file
The init.txt file contains the definition of the default application and the port used by the Elipse Mobile Server.
This is the init.txt file after instalation.
 app=ProjectsDemodemo.txt;
 port=8080;
 logs=false;

where:
app – Indicates the application path . In this case it points to the demo application that is included in the installation.
port – indicates the port used by the EMS server.
logs – indicates that the logs are active.
Running the Elipse Mobile Server as a Service
Run the MobileServer.exe again as administrator. Then, on the File menu, choose "Create Service".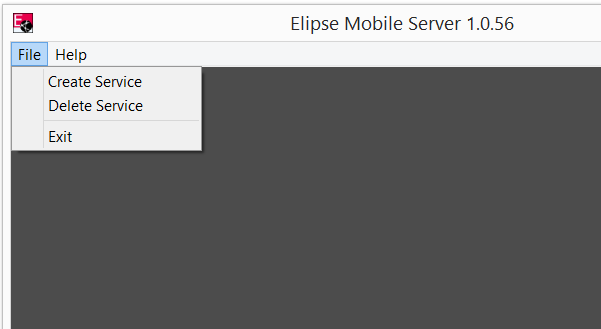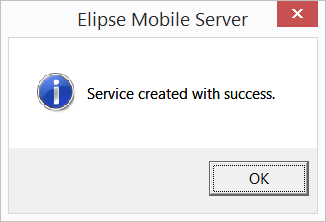 Close the application.
This procedure registers the service in Windows but does not run the service. To run, go to "view local services", then select MobileServer Right click and select start .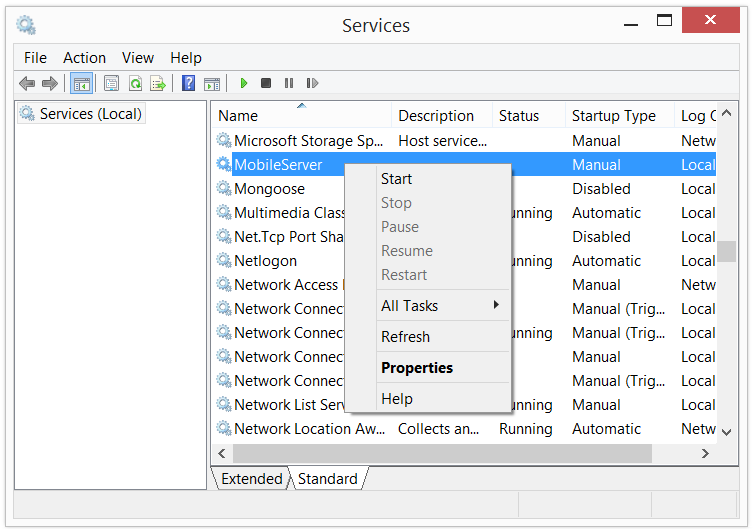 Once you do that EMS is already running as a Windows Service. You can stop the service in the same menu and change the settings in properties .
Tutorial
In this tutorial, show how to create a mobile application that connects with the Elipse E3.
Basic Configuration
1 – Stop the application or service if it is running.
2 – Go to the EMS installation folder.
At the Projects folder, copy the Empty folder and rename it to MyApp1. Inside the folder MyApp1 rename the empty.txt file to MyApp1.txt.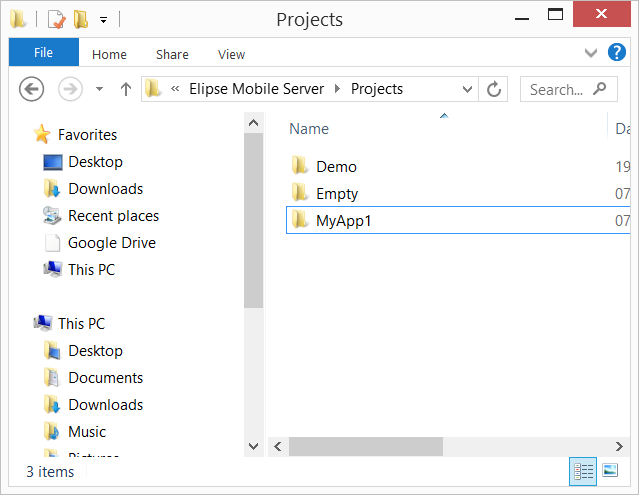 3 – At the main directory change the file init.txt to the following:
app=ProjectsMyApp1MyApp1.txt;
port=8080;
logs=false;

4 – Run the EMS again as application or service.
The empty application, which was copied to generate the MyApp1, already had the user "admin" password "admin" and user "demo" password "demo".
5 – Open a browser and type http://localhost:8080/.
Log in as user admin password admin.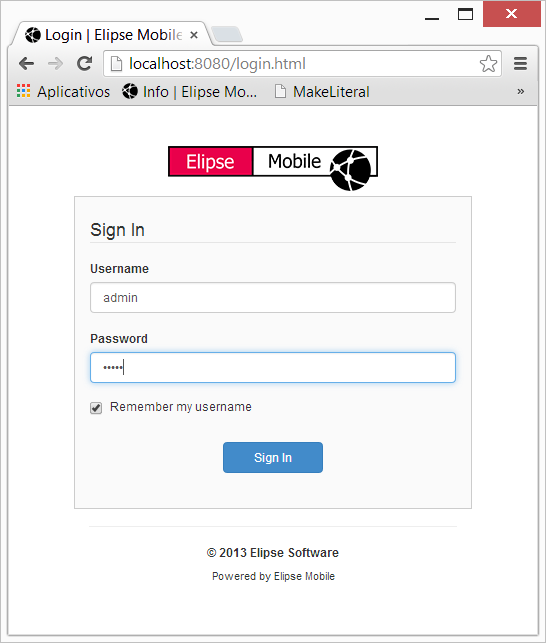 Read more: Managing users in Elipse Mobile Server